10 Minute OnDemand Webinar:
Product Genome - How to Create a
Customer-Centric Product Blueprint
As organizations digitally transform to meet customer demands and to stay competitive, they often run into development delays and costs overruns. As a result, 70% of transformation initiatives fail.
To be part of the successful 30%, you should take an approach focused on solving customer needs in a fast-paced, Agile manner. A systematic, disciplined methodology is needed to optimize your development efforts without compromising on quality and reducing development costs.
Introducing Product Genome:
Product Genome is a framework that looks at Product Management with a focus on defining the problem space to enable rapid delivery.
In 10 minutes, Anant Dhavale will explain how Product Genome can help you meet your development goals by:
Utilizing the best and most applicable practices from other industry frameworks to fast track Product Development efforts
Reducing go-to-market timelines significantly
Productizing technology implementations more quickly
Whether you are just starting on the Product Management journey, or have an existing practice, Product Genome can help you maximize your business goals.
Speaker: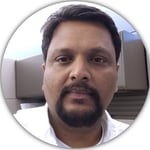 Anant Dhavale
Anant Dhavale is an experienced, industry leading Techno-Business Consultant. He has helped some of world's largest Fortune 500 companies optimize their Processes, Products and Business Ecosystems. He specializes in Product Management, Business Architecture and Business Value Acceleration and frequently publishes thought leadership articles, whitepapers and case studies on key topics and latest trends affecting the industry.