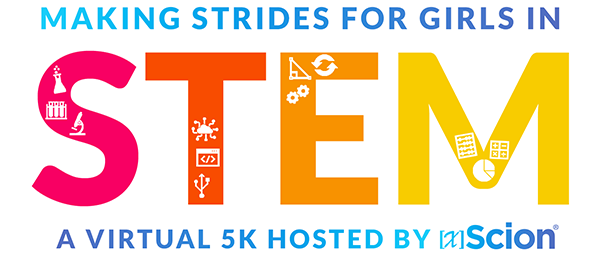 Join us for Making Strides for Girls in STEM, xScion's first virtual 5K Run/Walk/Hike May 1-15, 2023.
Race proceeds will benefit STEM For Her, a non-profit foundation in Washington, D.C. that fosters STEM interest in girls and young women with programs such as hands-on educational activities, virtual programs, mentoring, scholarships and support for community programs.
What is a Virtual 5K?
This virtual 5K is open to everyone – all ages and skillsets are welcome. The route can be completed at any location that is convenient for you at any time between May 1 - 15, 2023.
Registration is $35 and includes a t-shirt and bib.
To learn more and register, visit the Making Strides for Girls in STEM registration page.
About STEM For Her
The STEM for Her Mission is to promote education to create awareness, excitement, and opportunities among girls and young women to launch successful STEM-related careers. Through direct exposure to hands-on experiences, mentors and role models and other programs, STEM for Her enables girls and young women to envision the path to an education and a career in STEM. We develop our own programs and partner with girl leaders, community organizations and corporations with a strong focus on the underserved populations in the Washington, DC Metro Area.