Become a Product-centric Organization Series
Step 1: Set a Transformation Vision
According to Gartner, 85% of organizations have adopted or plan to adopt a Product-centric application delivery model and will use it to apply a Product-centric approach to 80% of their work by 2022.
For this transformation to be successful, you must clearly communicate the vision for a shift to become Product-centric and the business value of an Agile Product Management approach or the "why" behind the change. How will the transformation impact your internal and external customers? What are the expectations for the transformation journey at every level?
A successful transition from Project to Product starts with a clear vision, key strategic elements, and products and teams built around those key elements.
Download the infographic and learn how to:
Share a clear strategy

Empower teams to drive transformation

Change organizational structures

Start small with a reliable delivery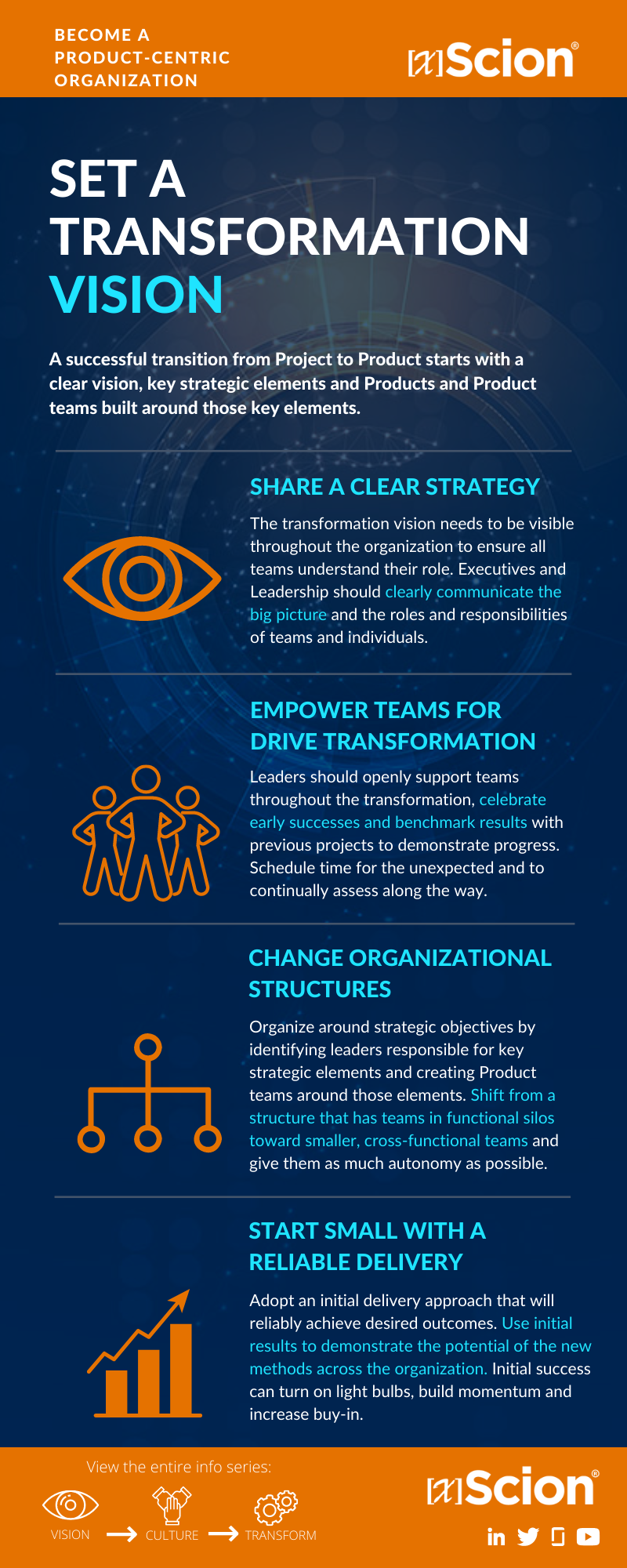 About the Series:
Many organizations are spending significant time and resources making the shift from traditional Product Management to Product journeys driven by a laser focus on their customers. This Product-centric shift brings great return on investment by creating more seamless and collaborative enterprises that leverage Agile and Cloud to deliver faster value to their customers.
Our three-step infographic series provides real-world tips to overcome common challenges faced along the Product journey.
Step 1: Vision - Learn how to establish and communicate a clear vision across all levels

Step 2: Create a Culture of Change - Understand how Change Management frameworks help create a culture of change

Step 3: Transform - Assess the intersection of the people, processes and technology that impacts new ways of working, including Agile and Cloud technologies.